The chart below shows the return from the FTSE 100 index over the last five years with and without income being reinvested. This clearly shows the significant value of income and its impact on equity returns.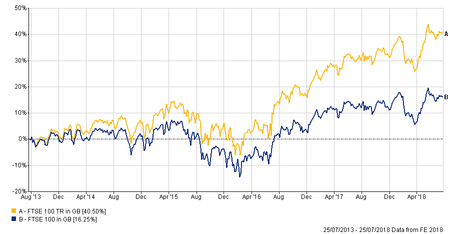 The concept behind equity income is simple – if a company does well and profits grow, then it can pay out a bigger dividend. The opposite is true of course, and dividends can be cut or suspended altogether. This is where investing via a collective fund, such as an OEIC (open ended investment company), unit trust or investment trust comes into its own. By investing in a diversified portfolio, a dividend cut from one company will have a much reduced impact on the income generated, compared with holding the stock directly. There are a good number of investment trusts which haven't cut their dividend in over twenty years, and City of London hasn't cut in fifty years. A particular benefit investment trusts have is that they can build reserves over time, and this can be used to maintain or increase income when there is a period of reduced dividend payments, such as during a recession. Inflation protection is another significant benefit of income generated by equities. Quality collective income funds invariably increase their annual dividend by an amount greater than inflation, which means investors receive a growing real income. Whilst this ability to outpace inflation is not unique to equity income, asset classes like fixed interest (generally) don't have this feature. Some years ago equity income was centred on UK stocks, but in the past 15-20 years the benefit of paying dividends has spread around the world. Equity income funds are now available in all markets globally, which enables diversification geographically providing greater flexibility and options when constructing portfolios. As for the current yield on these investments, they range from 2.5% to over 4.25%, attractive against deposit rates and many fixed interest stocks.
In some ways investing for equity income is the perfect strategy – investors receive income, there is good potential for capital growth, there is inflation protection and a growing real income. And to cap it off, if taking the income isn't required today, income can be reinvested compounding returns.
This publication is provided solely to enable clients to make their own investment decisions. It may therefore not be suitable for all recipients and does not constitute a personal recommendation to invest. If you have any doubts as to the suitability of this service, you should seek advice from your investment executive. The past is not necessarily a guide to future performance. The value of shares and the income from them can fall as well as rise and investors may get back less than they originally invested. Any tax reliefs referred to are those applying at the time of writing. All estimates and prospective figures quoted in this publication are forecasts and are not guaranteed. Rowan Dartington, its associate companies and/or their clients, directors and employees may own or have a position in the securities mentioned herein and may add to or dispose of any such securities.

Rowan Dartington is part of the St. James's Place Wealth Management Group. Rowan Dartington & Co. Ltd is a member of the London Stock Exchange and is authorised and regulated by the Financial Conduct Authority. The FCA does not regulate trust or taxation advice. Registered in England & Wales No. 2752304 at Colston Tower, Colston Street, Bristol BS1 4RD.