Of course, that's one of many possible outcomes for next year, but there are signs of hope if you choose to seek them out. Community mobility, as measured by Google, has unquestionably improved since the dark days of lockdown. Although mobility through workplaces and transit stations remains below the pre-pandemic norms, the underlying trend of mobility improvement is clear to see.
It seems likely that mobility may once again fall away as we brace with caution against this new strain, but the government zeitgeist seems to have changed, not just in the UK, but more broadly also. Barring any surprises in vaccine breakthrough, the prospect of further lockdowns appears to be falling rapidly, as countries move to live with, rather than live away from the virus threat. New growth possibilities should therefore emerge as we transition into this new phase.
That seems to be the view of policy makers too. Again, as I write, the Bank of England (BoE) has just announced a surprise rate increase to ¼ of a percent. That's unlikely to do much in isolation, but it communicates a confident view of the recovering growth backdrop and increasing concern about high levels of inflation becoming persistent and ingrained within expectations. The BoE move follows closely on the very well telegraphed pivot from the US Federal reserve less than 12 hours before, where chair Powell has indicated the early withdrawal of liquidity support for markets and a steeper forecast path for higher interest rates in 2022 and 2023.
Stock markets seem to have taken this news on monetary policy well, and the increased assurance from policy makers on future economic growth is likely to dominate the rising cost of capital. Equities will likely remain the only game in town for many investors, with fixed income prospects remaining challenging for some time to come. While the new year will likely see yesterday's winners within the equity space continue to outperform, policy makers have sewn the seeds for a possible style reversal within equity sectors.
Value stocks have underperformed their more growth orientated counterparts through most of the last cycle. One of the main features of that period of growth expansion was the low and falling level of bond yields. Interestingly, the US 10-year government bond yield, having reversed to almost 1.75% in early 2021, fell again on the run up to the US monetary policy announcement mentioned above. Fixed income markets seem to have been pricing for a policy mistake. The rise in bond yields that may eventually drive the reversal in fortunes of value stocks may still be some way off, but, perhaps more than at any other time in the past few years, it seems like a reasonably possibility in 2022 –see chart.
In practical terms, that may mean that the dominance of mega cap technology stocks may come under threat from the forgotten, and much cheaper, leisure and manufacturing sectors. That could take the form of a "recovery trade" in those names beaten up by the pandemic. As we slowly increase mobility, spending habits are also likely to change, with a lower proportion of disposable income spent on groceries and at online retail, and more on more usual amounts of travel and leisure. The patterns of future growth are also likely to change, prompting new winners within the equity space. That said, it really is hard to see overall stock market performance getting better than 2021. This next year may well turn out to be more about the security selection rather than the asset allocation.
US Value\Growth stocks versus 10-year bond yield.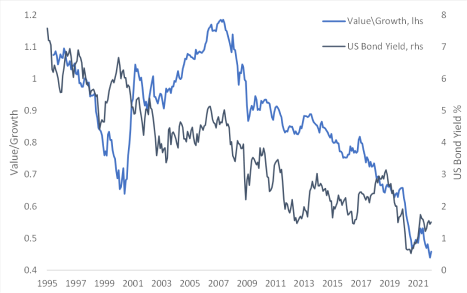 Source: Refinitiv, SJP DFM Research December 2021
The value of an investment may fall as well as rise. You may get back less than the amount invested.
Past performance is not indicative of future performance.
The information contained does not constitute investment advice. It is not intended to state, indicate or imply that current or past results are indicative of future results or expectations.
Full advice should be taken to evaluate the risks, consequences and suitability of any prospective investment. Opinions provided are subject to change in the future as they may be influenced by changes in regulation or market conditions. Where the opinions of third parties are offered, these may not necessarily reflect those of Rowan Dartington.
Rowan Dartington is part of the St. James's Place Wealth Management Group. Rowan Dartington & Co. Limited is a member firm of the London Stock Exchange and is authorised and regulated by the Financial Conduct Authority. Registered in England & Wales No. 02752304 at St. James's Place House, 1 Tetbury Road, Cirencester, England, GL7 1FP, United Kingdom.