Using a rigorous, research-based approach, we work closely with you throughout the construction and management of your portfolio so that we fully understand you as an individual. Committed to finding your perfect investment solution, we ensure that your financial strategy is perfectly aligned with your objectives and risk profile at all times. In other words, we invest our time in you. Whatever you're hoping to achieve, our investment management process will help you get there.
When it comes to portfolio management, we start and end with you. Our clear, four-stage approach makes sure your preferences are at the heart of everything we do:
1. Set clear objectives
Where do you want to be? What do you want to achieve?
2. Identify your risk profile
To ascertain the level of risk you're comfortable embracing and ensure your portfolio is clearly aligned at this level.
3. Select suitable investments
Before making any recommendations, our specialist research team follow a rigorous process to investigate suitable investments to recommend across our portfolios.
4. Building and monitoring your portfolio
Following a thorough assessment of your investment objectives and attitude towards risk, our experts will create a bespoke portfolio, purchasing individual investments with meticulous attention to timing and detail, ensuring it is carefully tailored to your needs and preferences. We then manage your portfolio on an ongoing basis, ensuring its quality, value and outlook remain aligned with your objectives.
Getting into the detail
We are guided by our Asset Allocation and Investment Committees who have a top-level view of our investment selection and review our investment allocation in relation to changes in the market and political and economical events.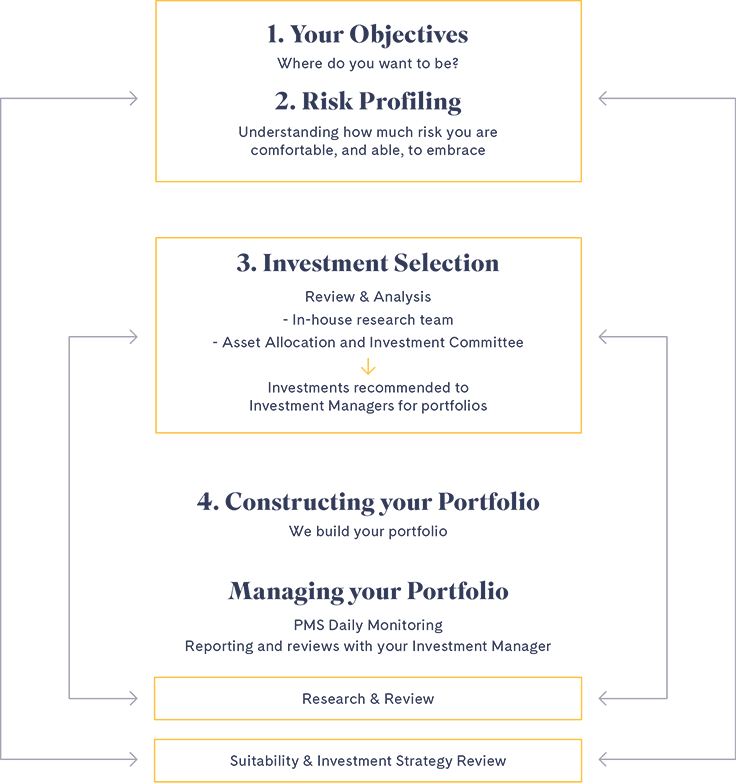 Independent Research
Research is crucial to building the most accurate picture of the investment landscape possible. Only then can we be sure we fully understand the opportunities available, and have the information we need to make the right recommendations.
Our in-house research team
Providing objective analysis on UK equities (company shares), investment funds (Unit Trusts and Open Ended Investment Company: OEICs) and fixed income securities.
Equity research
We thoroughly research all potential investment ideas and constantly review holdings against the ever-changing economic and financial background.
Collective research
When researching collective investments, we like to meet the fund manager and investment team. We look at the investment process in detail to decide if the fund is suitable for our clients.
Fixed income research
Our highly experienced team generate independent research on the main bond markets, both in the UK and overseas.
If you have any questions about our research strategy and how we manage your investment, please don't hesitate to contact our dedicated team now.